Fascinating places to Learn Spanish in Latin America
Spanish is one of the most widely spread languages in the world at the moment, and its popularity is only growing.
One of the best ways to learn this amazing language is to attend a Spanish school in Latin America: it will allow you to combine learning with the pleasure of traveling, as well as fully immerse yourself into the culture and language.
Choosing a good school is not an easy task, though, as the number of Spanish language schools has increased greatly with the languages growing popularity.
Here are some of the best Spanish language schools across Latin America.
EHE Spanish – El Socorro, Colombia
El Socorro, founded in 1981, is a beautiful town with a rich history in the north-east of Columbia, in the province Santander. The town is most famous for being the center of the fight for the independence of Colombia against Spanish colonization.
It is a small cozy town surrounded by beautiful landscapes. The surrounding rivers and mountains offer great opportunities for adventure sports. And unlike big cities, the cost of life in El Socorro is relatively low, so you will be able to live here, study and have some fun without straining your budget too much.
EHE Spanish School was founded in 2009. It welcomes Spanish learners of all ages from all over the world to come here. EHE Spanish School offers world-class curriculum, with classes designed to be not only educational but also relaxed and fun. It offers one-on-one classes as well as studying in small groups (no more than 5 students per group). During the classes, teachers focus on all four main skills: listening, speaking, reading and writing, while also putting a strong emphasis on grammar.
The town of El Socorro will allow you to immerse yourself in the Spanish language and Colombian culture in your free time.
Pichilemu language school – Pichilemu, Chile
Pichilemu, founded in 1541, is a beautiful coastal town in Central Chile. It is a beach resort offering amazing opportunities for water sports, such as surfing, windsurfing, kitesurfing or sailing. Although tourism is the main industry of Pichilemu, local arts and crafts are also very important. In your free time, you can enjoy a leisurely stroll through the local handicrafts fairs.
Pichilemu language school offers immersion programs to Spanish learners. It is more than just a school; it is a community, providing a space not only for language learning but for cultural exchanges as well.
The school offers small group classes as well as individual ones. The school is relatively small, but this is an advantage: all the classes are tailored specifically to particular students, and all the students' learning needs are met.
Pichilemu language school often hosts events for its students to promote language and cultural exchange.
El Zonte Spanish school – El Zonte, El Salvador
El Zonte is another seaside town on our list – in fact, it is a small beach village in El Salvador, known for perfect waves all year round and its great people. It is a perfect place for beginners as well as advanced surfers, so why not combine learning Spanish with surfing?
El Zonte is a quiet place, it does not have a rich nightlife with noisy bars or clubs or big hotels. However, the small local restaurants and bars offer great food and an opportunity to practice the Spanish you have learned with the local people.
El Zonte Spanish school is a perfect place to both learn Spanish and enjoy the tropical life of El Salvador. The school offers individually tailored one-on-one Spanish lessons with highly qualified teachers, along with partner or group lessons. The schedule is flexible – there are no fixed start dates and you can also book extra classes whenever you want.
The school also supports sustainable tourism by supporting the locals and offering them jobs and opportunities for professional development.
ISE – Quito, Ecuador
Quito, founded in 1534, is the largest city and the capital of Ecuador. This city can boast one of the largest, least-altered and best-preserved historic centers in the Americas. It is also among the first World Heritage Sites declared by UNESCO.
Quito has a lot to offer: breathtaking historical sites, rich culture, with a mix of modern and traditional, great food and nightlife, beautiful nature – there is something for everyone. What a great chance to practice Spanish and immerse yourself into Ecuadorean culture!
The Instituto Superior de Español was founded in 1988. It is a family-run school, recognized as the leading Spanish school in Ecuador. It offers affordable and flexible programs, allowing students to study in five different locations across Ecuador.
ISE offers courses to students of different levels with different needs – for instance, you can study Spanish for traveling or for professional purposes here. Funders of ISE pride themselves on teaching practical Spanish skills that their students can apply right away.
Spanish Immersion – Oaxaca, Mexico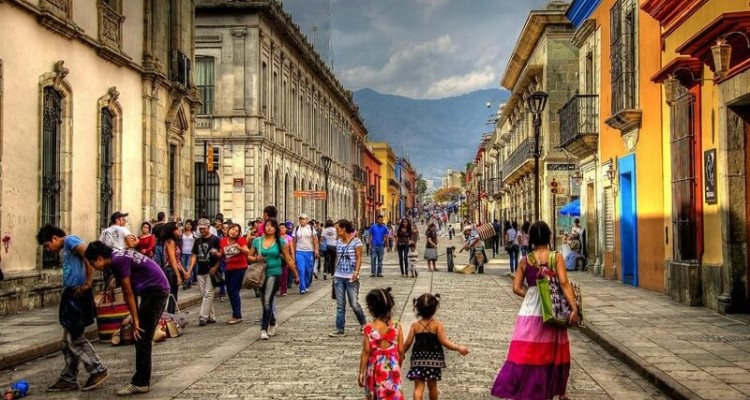 Oaxaca, founded in 1532, is a city full of rich history and unique individuality. There you will find colonial churches, architecture and monuments, lots of museums, bustling markets, sunny beaches, mountains perfect for hiking and many more.
Oaxaca has for quite a while been considered "the culinary capital of Mexico", so don't miss your chance to visit local restaurants and food markets to try delicious food and, of course, practice your Spanish.
Spanish Immersion Schools offers a unique learning experience, combining high educational standards with a relaxed and friendly atmosphere that greatly facilitates learning. The classes are fun, interactive and the level of student involvement is very high.
The school provides intensive total immersion with 3-8 hours per day with immersive instruction and conversation, the classes are 1 to 1, which allows you to master the language very efficiently.
Spanish School Pura Vida – Puerto Viejo, Costa Rica
Last but not least on our list is our own school in Puerto Viejo, a small coastal town in Costa Rica. It is a natural paradise, surrounded by lush tropical jungle, amazing beaches, national parks, and rich flora and fauna.
Although it is a small town, here you can meet people from all over the world, immerse yourself in the Caribbean culture, go surfing, kayaking, partying, go to cocles beach and enjoy its tranquility; you can even volunteer to help preserve the nature and endangered animals. The options for having a great time here are endless.
Another great thing to do while in Puerto Viejo is to learn Spanish, quite obvious right?
Here at Pura Vida, we strive to provide you with the best possible experience while in Costa Rica, which involves not only learning Spanish but also traveling and making friends. You will learn Spanish that is practical and will be able to use it when communicating with locals.
If you haven't checked our website yet, we offer immersive courses that will have you speaking Spanish quickly! Apart from spending time in the classroom, your teachers will take you to interesting places around the town to practice what you have learned and having a nice time.
The school offers group as well as private classes tailored to the learners' needs and language level.
Imagine learning Spanish in an efficient and fun way in a tropical paradise – what can be better?
Conclusion
As you can see, Latin America has a lot to offer when it comes to Spanish language schools and immersing yourself in the local culture. You can combine your studies with a lot of fun things as well – enjoy the rhythm of a big city like Quito, surf in El Zonte or enjoy a tropical paradise in Puerto Viejo. The choice is yours, but whatever you choose, you can be sure that it will be fun, educational and prove to be a great investment in your future.
The ultimate guide to "Por" and "Para" Introduction I remember...
Read More
Tips and Unorthodox strategies to learn Spanish Have you tried...
Read More